The Power of Connection
David O. Williams
December 08, 2020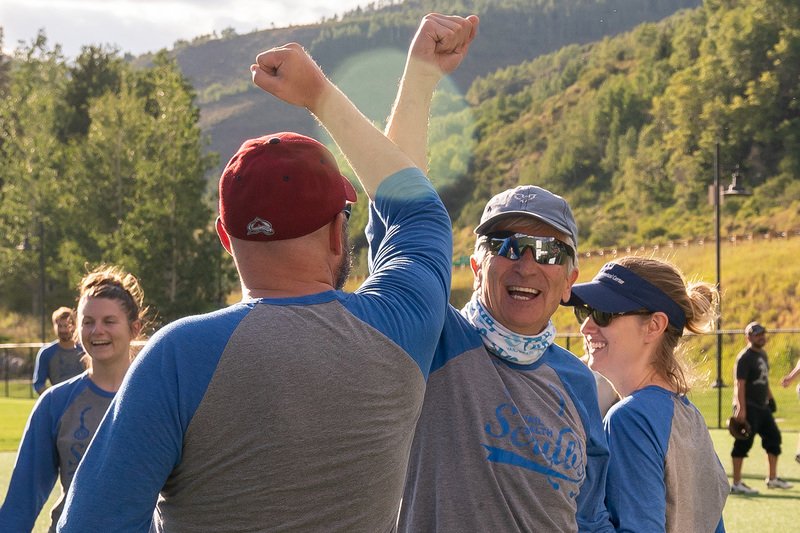 Battling the happy valley's loneliness epidemic by David O. Williams, photos by Dominique Taylor. This article was first printed in Vail Health Magazine 2020.

Loneliness and depression come in many forms in our mountain communities and affect people of all demographics in very different ways. But people at the greatest risk for experiencing loneliness — the elderly, youth and those living alone — say the best weapon in their arsenals is simple human connection.

"There is a substantial loneliness epidemic in our communities that occurred way before COVID-19 hit and we were forced to self-isolate," says licensed psychologist and Community Behavioral Health Director for Eagle Valley Behavioral Health Dr. Casey Wolfington.
"We are innately social creatures and we're wired for social connection."

Social engagement is especially fundamental to the development process in children and teens," says Dr. Wolfington, whose work over 14 years of practice has focused on children and adolescents who have experienced trauma.

"When we were initially faced with the order for COVID-19 isolation, I saw many families downplay the impact on their teens, their kids and their own selves. I don't think many people really understand that connection and relationships are a fundamental milestone in child and teen development. That was taken away, and if we keep taking it away, we do not know the long-term consequences."

Judson Haims, owner and director of Visiting Angels Eagle County, asks many of the same questions about Eagle County's steadily aging population, where he sees longtime residents losing friends and family members and becoming increasingly isolated. His company dispatches licensed caregivers to assist in homes, and says there are many things we can all do to keep older residents connected.

"Keeping our eyes open for community members who have kind of faded away, being a neighbor," Haims recommends, citing the paradox of the Eagle River Valley, where neighbors unflinchingly hold fundraisers for friends with cancer but don't intervene for loneliness or depression.

He encourages, "Ask, 'What can I do?' And be aware of advocating for people; we should all be advocates."

Haims was touched when high school musicians started playing impromptu concerts for the residents of Castle Peak Senior Life and Rehabilitation Center in Eagle during the COVID-19 lockdown in March 2020 — an effort they undertook of their accord.

"Now you bridge that youth age group with a senior age group, and you create something very special," Haims says. "This younger age group is more receptive to helping out elders than any other generation in many generations. How we help the society at large is by looking around and seeing what we can do with an earnest desire to help out others."

Dr. Wolfington agrees that finding creative ways to bring people together, especially in this time of pandemic isolation, is critical to staying healthy as a community.

"Social connection is the biggest predictor of strength of health, both physical and emotional, across a number of studies, and when we think about loneliness, that has actually been linked to substantial rates of early death," Dr. Wolfington says, pointing to higher incidences of cardiac issues and cortisol levels, which is the body's main stress hormone.

Haims, who first moved to Eagle County in 1991 to work in restaurants, hospitality and marketing, started his Visiting Angels franchise because a growing number of friends had aging parents in need of care, including some of the founding members of Vail. They came for the highly active outdoor lifestyle and didn't want to leave as they became less active.

"It could just be a forfeiture of the things that you used to have that now make you feel isolated, and with the isolation comes loneliness," Haims says, adding he's had remarkable success hiring caregivers who have retired from or are working on certifications in the local healthcare industry. He also says empty-nesters looking for ways to give back have been a boon.

But he acknowledges that all of the factors that make it difficult for other employers to find qualified workers — high cost of living, housing, health insurance — also impact his company, especially during the ongoing pandemic. And those factors also contribute to stress and loneliness.

People move to the valley and are in awe their first year, he says, doing whatever it takes to make ends meet and live the dream of skiing, biking and boating in the Rocky Mountains. Then long-term reality sets in at about year three.

"Now all they're doing is working; they're not mountain biking, they're not hiking, they're not going out," Haims says. "They say, 'This sucks;

I'm never going to have the money to buy a house,' and they leave. That cyclical turnover creates issues of depression and anxiety for the people that are there, but also flows upstream to the employers."

All of those factors continue to compound for people who decide to stay, says Carol Johnson, director of programs and events for SpeakUp ReachOut, a suicide-prevention group that is working to address loneliness in a county with one of the highest rates of suicide in the nation.

"If we can't talk about [loneliness], we are putting ourselves on the road to serious mental health risks. Not unlike the name of our organization — SpeakUp ReachOut — I believe locals need to take these actions more," Johnson says. "We need to talk about our feelings, problems and difficult situations without fear of shame and stigma from those we are opening up to.

"We need to put our phones down in the presence of others, make eye contact, ask questions and actively listen. We need to have the confidence to say to a friend, a neighbor, a family member, a colleague, 'Hey, you don't seem like yourself, do you want to talk about it? I'm asking because I care about you.' These simple approaches could possibly save a life," Johnson adds.

Johnson says there is a difference between being alone and feeling lonely. Loneliness can occur in the presence of others, and reaching out during COVID-19 looks a little different than pre-pandemic life and possibly takes more effort. Connections may have to come via Zoom, FaceTime, small gatherings in homes, walks outside and meetings at safe spaces where masks are being worn.

Haims and Dr. Wolfington agree that too often socially connecting in Eagle County involves drinking, and while technology is serving to connect us all in new and exciting ways, Dr. Wolfington adds that social media is feeding the loneliness epidemic.

"Social media has absolutely contributed to it because … you can be connected without really being connected," Dr. Wolfington says.

"I've had kiddos that I've worked with that when they name their friends, they name people that they meet in different chat rooms or on different games they play that they've never physically met before. That feels really sad … really scary."

Thankfully, there are a growing number of tools in the valley for people who are feeling disconnected during the current crisis or who
found themselves in need even before the pandemic.

In the midst of COVID-19, Eagle Valley Behavioral Health launched Community Stream, a website dedicated to keeping the community informed, healthy, active and engaged. Podcasts, live stream and recorded events are hosted daily. Topics include fitness, music, education, wellness, spiritual and peer support. To find opportunities for connection, visit: CommunityStream.org

Check the newspaper and social media for other local happenings, pick up the phone and call a friend, meet your neighbors or invite a co-worker on a walk after work. There are ways to safely connect with others, and in a time when social distancing is encouraged, connection has never been more critical.