We are Eagle River Valley
David O. Williams
April 15, 2021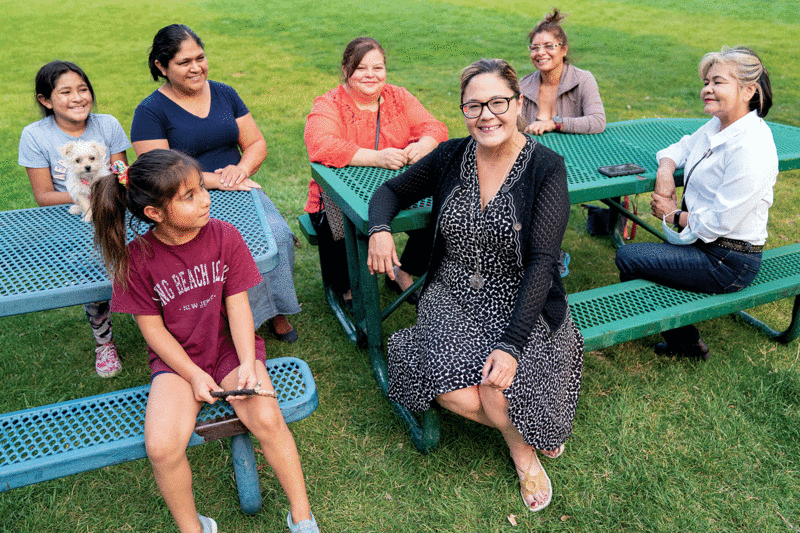 This article was first published in the Vail Health Magazine 2020, written by David O. Williams.

Much has been written about the so-called "paradise paradox" of seemingly homogeneous and largely idyllic mountain-town communities hiding a veritable on-slaught of depression, substance abuse, loneliness and despair. But the reality is most mountain towns are far more diverse than they appear to the outside world, with people of all ages, ethnicities and socioeconomic status suffering similar problems and often struggling with less help.

"People have a misperception of what our community truly looks like, and it's this idea that, 'Oh, it's a resort community; everyone is on vacation all the time; everything is perfect,'" says Dr. Casey Wolfington, licensed psychologist and community behavioral health director for Eagle Valley Behavioral Health. "The fact is that we have a lot of struggle in our community. When I was working with Bright Future Foundation, I was shocked initially that we saw over 600 cases of domestic violence and sexual assault a year [in Eagle County]. And the cases that I was working on were on par, if not more horrific, than the trauma I saw in the emergency room down at Children's Hospital [in Denver]. "Those are city issues, or so the misperception goes. Residents of ski towns are young, healthy, athletic, affluent and immune to the problems people face in urban areas. Right? The reality is behavioral health issues follow folks to the mountains and are exacerbated by being far from family back home, caught up in a rat race of partying and working to get by in one of the most expensive places on the planet, and notoriously devoid of professional help until recently. Whether you're a working-class immigrant living in the local trailer park, a trust-funder in a high-end condo or a family man struggling to balance multiple jobs, loneliness, depression and anxiety can find you. "People think that individuals who have means and have access to income or insurance have a lower level of behavioral health problems, but that's not the case. Behavioral health is something that really spans socioeconomic status," Dr. Wolfington says of the wide range of needs locally.

"Often what we find is people who are successful in inpatient services somewhere else come back to the community, and all the problems are still here," explains Dr. Wolfington. Perhaps most importantly, experts agree, is the need for a collective realization and open discussion around the fact that Eagle County is a diverse community and that everyone here can suffer inside, no matter how they present on the outside. A mother who "should" be so happy about her new baby can be struggling with postpartum depression. A wealthy, highly active and attractive socialite might be suffering major behavioral health issues just beneath the surface. A tough first responder who charges into every emergency may be embroiled in his own internal crisis. A hardworking immigrant who left behind devastating trauma in her homeland can feel alone and terrified in a seemingly safer land of economic opportunity. A member of the LGBTQ community may have moved here from a more conservative place but still feel alienated in a resort area that celebrates and markets family values and hetero-sexual norms. A septuagenarian with resources who still enjoys the mountain lifestyle can feel trapped by it as friends and family age and move on.

EVBH and Community-Based Care
To that end, Eagle Valley Behavioral Health has been working hard to meet the diversity of need, from Eagle County's rapidly aging population to its younger, more transient residents; lower-income, working-class families to immigrants and disconnected youth. The goal is greater access, more teen and pediatric specialists, more Spanish-speaking clinicians and outreach...more of everything right here in the Eagle River Valley."One of the reasons Eagle Valley Behavioral Health is really promoting community-based care and building higher levels of care here is because you can't really escape the difficulties here," Dr. Wolfington says. "You have to work through them within your home, within your own community." That includes the often overlooked and arguably more marginalized lesbian, gay, bisexual, transgender and queer (LGBTQ ) community, Dr. Wolfington says. "We are absolutely dedicated to providing as much education for our clinicians, but also really educating the community, because individuals feel like the LGBTQ community doesn't exist in our valley, but it very much does, and maybe people are not aware of it because it doesn't feel like a supportive community," Dr. Wolfington says. "So how do we educate our community on how to be more inclusive and supportive so that we really can support that population?" In 2017, Evan Weatherbie helped start the Eagle County Gender and Sexuality Alliance (ECGSA), a group that kicked off as a collaboration with Mountain Youth and is based out of and coordinated as a student group through Colorado Mountain College (CMC) in Edwards, but is open to the public. Weatherbie, who is gay, has been a fulltime faculty member and professor at CMC since 2011, teaching history and English.Youth are amongst the most vulnerable to mental health challenges.

He grew up in the conservative eastern Colorado farm town of Fort Morgan, which he left because of a lack of acceptance of who he was as a person. Now Weatherbie hopes to foster that awareness and acceptance in Eagle County, as well as to build bridges for anyone in the community who may need therapy, for any reason. "All kids need positive role models; they need validation and acceptance and they need visibility of people that they can relate to and that they can trust," Weatherbie says. "So I think any visibility, any attention that Vail Health or any other organization in our valley can bring to queer youth would be helpful. The queer community is just essential for people to grow up trusting themselves and accepting themselves. "When I think about my own experience, I had absolutely zero gay role models growing up. The message that I got from that community was that my identity was a detriment and that who I was was not OK. That's one of the reasons that I left, and I looked for those spaces of acceptance in other communities," he adds. When ECGSA first started, it had more than 50 members attending monthly meetings but the transient lifestyle of a ski town, where everyone is working multiple jobs to survive, recreating in the outdoors when they're not working and traveling around the country and the world led to a smaller, more dedicated group attending events and conferences, Weatherbie says. "What I hope is that people have some awareness that I'm here and my students are here and this group exists," Weatherbie says. "And so for the people who really do need it and want it and are seeking that community, I want people to know that we're here for them."

Reaching All Demographics
According to the latest U.S. Census Bureau data (as of July 1, 2019), Eagle County is 47.2% female, 52.8% male, 26.9% under the age of 18, 12.4% over the age of 65, 29.7% Hispanic or Latino and 67% White. Within those demographics, there are veterans, cancer survivors, cardiac and orthopaedic surgery patients, retirees, workers, school kids and people from virtually every walk of life — many dealing with behavioral health issues from a low simmer to a full boil. The point of first contact in a crisis can make all the difference, and local police departments were the first to support Eagle Valley Behavioral Health through their First to Respond, First to Give campaign, which was organized by first responders back in 2018 to raise funds to combat the suicide epidemic of one attempt a day that year. Eagle County Paramedic Services also led the charge, with crisis clinicians offered through the Eagle Hope Center. To reach as many people as possible in the community, Vail Health, since its merger with Colorado Mountain Medical (CMM) in July of 2019, has embedded an integrated behavioral health model within CMM, which serves 90% of the Eagle River Valley population.33vailhealth.org2020-2021Longtime local Ella Burnett was a nurse in Gilman before settling in Minturn. Now 93 years old, Ella still loves walking in the woods near her home. As seniors age, they sometimes experience a sense of isolation and shrinking social circles.

"If we think about kiddos, by the time they're even five years old, they know that building, the waiting room, the doctors. They trust that community," Dr. Wolfington says about CMM. "We're seeing that across all of our different, diverse backgrounds, that the commonality is a lot of people are open to services at Colorado Mountain Medical. That's really been a game changer in stigma reduction." At the other end of the age spectrum, Judson Haims, owner and director of Visiting Angels Eagle County, says the valley's aging population struggles with life in the mountains. "That's part of the problem that we have here in our mountain towns is there's a lot of people that grew up here, raised their kids here, and they're of moderate financial means," Haims says. "They've learned to love our mountain lifestyle of getting out, the Vilar Center, Ford Amphitheater, ballet, kayaking, running, walking, all these things, and when they find that it's hard for them to keep doing that, they run into that question of, well, 'Where do I go? And what options are there for me here?'" That gradual feeling of not belonging, Haims says, of being disconnected and lonely, has to be addressed, regardless of socioeconomics ... and age. It's being exacerbated by the COVID-19 crisis, experts agree, and can be dangerous for young people as well.

The Challenges of Youth
Sometimes our youngest community members are the most vulnerable, and therefore, the most likely to get lost in the shuffle. Kids, new to the world and still sorting out how everything fits together, carry heavy expectations, fears and uncertainties on their little shoulders. "We really train kids on what their behavioral health needs are," says Dr. Wolfington. "If we're not talking with them about what their behavioral health needs are from a young age, we're actually teaching them that it's not OK to talk about them. So even no action is an action."Dr. Wolfington recommends starting the conversation early and keeping it going in order to make it a priority and create awareness. That way, when there's a minefield of emotions and triggers during the teenage years, talking is a normal part of the process. Teens face big feelings with giant pitfalls, but if there's an already established vocabulary for talking about them, communication can help bring the monster out of the dark and take away the power of dread. "It's good to have those conversations early and often, so kids can recognize it's okay to have a range of emotions," says Dr. Wolfington. It's a lot to navigate — kids have a slew of expectations surrounding school, home life and extracurriculars, but they are also in a 24/7 social situation. "The social demands that kids are facing in school are usually greater than the academic demands," she says. "It is very unusual that I have kids in my office, stressed with academics. Usually they're stressed about the social stuff." And that social pressure never shuts off. It's 1 a.m., and someone is posting about their evening, or making a funny little joke at someone else's expense. "Technology: That part never leaves you alone," admits Dr. Wolfington. "It's always happening. It creates this situation that feels like there's no way out. "Teens, and many younger kids too, are inundated with social pressures, and without the perspective that age offers, life can easily feel overwhelming. "Maybe it's more helpful to just admit that it's really hard being a teenager right now," says Dr. Wolfington.

First Responders' Response
When a wildfire breaks out — or there's violence, trauma, an accident — first responders run toward the danger, not away. While most people can count a handful (or less) of traumatic situations they've witnessed, police, firefighters, EMTs and other health professionals see it again and again in the course of their jobs. Car accidents along I-70, skier collisions on the hill, domestic violence, house fires, missing children — these events make up the workday for many first responders. And though they are professionally equipped to protect and serve the community, it certainly takes a toll on their mental health. Depression and PTSD affect an estimated 30% of first responders nation-ally, compared to 20% of the general population. And while approximately 3.7% of Americans have contemplated suicide, that rate jumps to 37% for fire and EMS professionals. And so, these men and women who rush into danger to help others are at greater risk from the effects of their job than the actual danger of doing their job. Perhaps compounding the situation is the natural response to reach for a What we're realizing is someone not seeking the services doesn't make the problem go away. It just really exacerbates the problem until it's reached a level of crisis where we're at risk of losing people's lives in our community."

First responders deal with traumatic events as part of their job, and it can take a severe toll on their mental health.coping mechanism. Because alcohol can temporarily take the edge off, and it's an accepted cultural ritual, especially for those who work the front lines together, it's easy to fall into a pattern of substance abuse. And while it might provide temporary relief as well as a sense of camaraderie, it can also compound the underlying issues that are ultimately so dangerous. A 2018 study showed that 29% of firefighters engage in alcohol abuse. And while 0% of rookie cops reported an alcohol abuse pattern, that went up to 27% after two years on the force, and jumped again to 36% for four-year veterans. EMTs command the most urgent concern, with upwards of 40% reporting a substance abuse issue. The irregular hours required by the job — sometimes days, sometimes nights — disrupt whatever sleep habits are in place. Though culturally everyone is encouraged to push through the fatigue — and indeed, for first responders it's often considered " just part of the job" — lack of sleep is now being recognized as the health hazard it is. It can be a major contributing factor to post traumatic stress disorder, and has been directly linked to heightened emotional reactivity in people. Used to solving the world's problems, first responders are likely to neglect their own health. They often hold themselves to a higher standard, and to reach out for help might make them feel weak. But all the research keeps revealing the same conclusion: even the mightiest among us has behavioral health needs. The more we can work to de-stigmatize the process, the better it is for everyone.

Latinx Loneliness
Gerardo (Gerry) Lopez thought he was invincible his first couple of years at Battle Mountain High School in Edwards — "tough as nails, top dog, nothing could tear me down" — but then he switched schools to Eagle Valley High School in Gypsum his junior year, and it nearly cost him his life. Immigrants from Mexico in the 1980s, Lopez's family had finally realized the American dream of home ownership and moved "down valley" to Eagle, but that meant leaving behind his group of friends at Battle Mountain, and he was struggling on the soccer team, trying to find his place but feeling the heat from hazing and bullying. "One of the biggest things that I let Eagle Valley Behavioral Health know, that I let the schools know, is that it doesn't matter if the kid is Hispanic from Mexico, or they were born here, or they're Anglo. Nobody's immune to this," Lopez says of his desperation in high school. "But one of the things that we can pinpoint is that loneliness. There are a lot of kids that just feel like they're outcasts or that their friends have found a group of friends, but they haven't yet. "Lopez now works with school counselors and youth groups like My Future Pathways to connect with kids, and there are other resources in the Latinx community such as three new Spanish-speaking Community Behavioral Health Navigators and the many services offered by MIRA, the Mobile Intercultural Resource Alliance. "We have a diverse community," Dr. Wolfington says. "The statistics show between 40-55% of the students in our school district identify as Latinx. A lot of people overlook that. And what we have is a lot of healthcare systems that cater to a predominantly white population. And so we really need to do a lot of work on getting Spanish-speaking healthcare and behavioral health providers across the board to really meet the needs of the community and start to get our diverse community to trust the behavioral health component." Dr. Wolfington says there's a mistrust of institutions among the local Latinx community, and it impacts everyone from domestic violence victims to people who have substance abuse issues but don't want to seek help because of their fear of what the repercussions could be. Questions of immigration status can also be a huge barrier to people getting the help they need, even though healthcare providers and local law enforcement will not ask. "What we're realizing is someone not seeking the services doesn't make the problem go away," Dr. Wolfington says. "It just really exacerbates the problem until it's reached a level of crisis where we're at risk of losing people's lives in our community."

Trauma and Machismo
Lopez says many local Latinx kids have experienced some serious trauma in their lives at a very young age, from drug cartel and gang violence in Mexico to President Donald Trump's hardline immigration policies. When immigrants were being detained at the border, some of them had families living in Eagle County. And that took a toll on them mentally and emotionally. "I talked to a lot of those kids, and before they knew about the new border practices, they were super-happy, super-outspoken, and then, boom, their family gets locked up and they come to school and it's like they're completely different. They're shut down. They don't want to talk. They don't want to open up. PTSD is one of the things that I feel like a lot of our kids have."Lopez also says there's a certain stoicism in the Latinx community, an inclination to keep one's head down and soldier through any problems."It took me a really, really long time to take action because I was telling myself, 'Hey man, your dad and your uncles, they all taught you to be quiet, it's just going to pass. Just go to sleep and you'll wake up better tomorrow, but I would do that for days and days. I would go to sleep, wake up the next day and feel terrible," Lopez says. Faced with two paths, going home after school and taking those painkillers or reaching out to someone at his school and talking about his problems, Lopez says he had to overcome his shame. "The only thing that was holding me back from actually talking about all these things was my machismo, my macho attitude," Lopez says. "And to tell you the level of shame that I had going into that counselor and telling her what I was going through, it was on a high level. I had a lot of shame, but once I told her that I was feeling all of these things, that I had suicidal thoughts, that shame went away and I had a full sense of relief because I was being listened to. "For everyone in the Eagle River Valley — no matter the community they most closely identify with — the message is clear: seek support when you need therapy and make sure you get it. No matter who you are, it will help, because in one-on-one therapy you'll find someone who can take into account your specific needs as an individual.